Whitley Chiropractic Gives Back
Annual Food Drive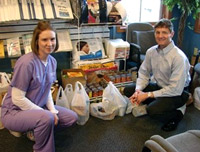 November of 2006 was the start of an annual food drive in our office to help the hungry of Whitley County. We have donated over 950 bags of food and approximately $9000 in gift cards to the St Vincent DePaul food pantry.
The St Vincent DePaul Food Pantry is located at St Paul of the Cross in Columbia City. The pantry provides non-perishable food items to those needing help in Whitley County. They sometimes provide perishable items as well when they are available. For more information on how you can help the St Vincent DePaul food pantry, call the church office at (260) 244-5723.
We look forward to each November to see the outpouring of support from our patients and the faces of the pantry volunteers when arrive at their door with our donations.
Diaper Drive for BABE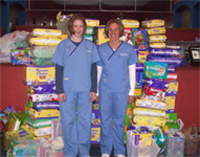 BABE is a non-profit organization that has a mission to provide quality incentives to parents who participate in preventative and prenatal care, including parenting, educational and nutritional classes to promote healthy pregnancy, birth outcome and early childhood development. BABE is located at the corner of 301 North Main Street in Columbia City with director Shawn Ellis overseeing its operation. If you would like more information about BABE or would like to make a donation directly to them, they can be reached at (260) 244-2820.
Since BABE started their county wide "BABE GIVE" taking place each April since 2009, we have donated over 34,000 diapers and over $1400 in cash donations with the awesome support of our patients. We hold the diaper drive every year.
For more information relating to our annual food drive each November or the annual diaper drive for BABE each April, please feel free to call the office at (260) 244-3665.
First Miler Campaign for Eel River Trail Head
Whitley Chiropractic along with other donors contributed at least $1000 towards Phase I trail construction. Special tiles commemorating these First Milers will be set in the asphalt along a section of the trail.  The Friends of Eel River Trail is a non-profit all-volunteer citizen group, founded in 2006. Our goal is to convert the historic Eel River Railroad line extending from Columbia City to South Whitley, Indiana into an ADA-compliant trail for the safe, non-motorized recreational enjoyment and health of everyone.
Drs. Lori and Jamie both believe the importance of healthy low cost activities that promote exercise for the community are vital.
Partnering with Indiana Trail 100
Whitley Chiropractic has been given the opportunity to participate as a donor to the first 100 mile trail run in Indiana. The trail run will be held next year in the month of April at Chain O' Lakes State Park. Whitley Chiropractic and Wellness Center donated $1000 to the new race.  Proceeds for the race will go toward the preservation of the Chain O' Lakes State Park trail system.  We want to thank Tom Landis and his crew for this opportunity.
Indiana Trail 100 will be the first 100 mile race in the state of Indiana. The course will be a 6 loop course with a cross country type of terrain. From rolling hills to off camber grass section and 6% road. The trail winds through the woods around lakes and is pretty well protected from wind the entire way. The 50 miler race will be 3 laps on the same course.
CONTACT US »

---
Whitley Chiropractic Gives Back | (260) 244-3665