Meet the Doctors at Whitley Chiropractic
Dr. Lori and I had no idea what we would embark on when we both first entered into the chiropractic world.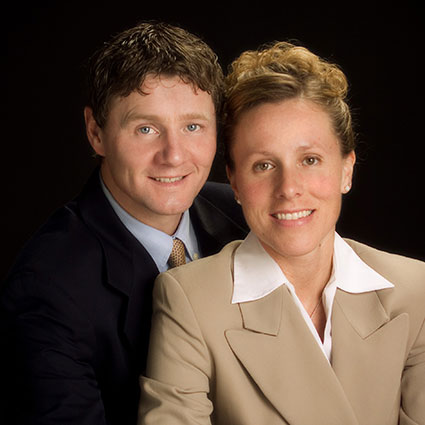 Dr. Lori and I met at Palmer College of Chiropractic in Davenport, Iowa. Dr. Lori after receiving chiropractic throughout most of her childhood while swimming competitively in high school never thought about doing anything other then becoming a Dr. of Chiropractic. Dr. Lori remembers always knowing that her desire to train hard and receive chiropractic care was why she was successful in swimming.
I found my way into chiropractic after a diving accident left me in the hospital with a neck fracture for several months, at the age of sixteen. After wearing a halo and other neck braces for nearly a year, I had almost no movement in my neck. My sister introduced me to a chiropractor who would eventually become my brother in law, and following treatment with chiropractic care over time a regained almost 100% of the movement back in my neck. I couldn't think of anything else to do but to become a chiropractor.
Dr. Lori and I would have never of met and wouldn't have two beautiful children. So you can imagine why we are so fired up about chiropractic and what it offers.
Chiropractic Education
Dr. Lori began her education at the University of Wisconsin in Milwaukee and Dr. Jamie at Metropolitan State College in Denver and both attended classes at Scott Community College in Bettendorf, Iowa, where they studied the basic sciences such as inorganic chemistry, organic chemistry, biology, along with basic physiology and anatomy courses.
After completing there studies, they were both accepted at Palmer College of Chiropractic in Davenport, Iowa. During their four years at Palmer, courses included biochemistry, a major emphasis on anatomy and human physiology, X-ray, diagnosis, chiropractic adjusting techniques and patient care in the Palmer College Public Clinic. After Dr. Lori graduated in 1998 and Dr. Jamie in 1999 they came to Indiana to practice chiropractic.
The Benefits of Chiropractic Care
After Dr. Lori being able to achieve her goals in swimming, Dr. Jamie being able to live a more normal life after his accident, and sharing chiropractic with their own children since birth and seeing the early benefits their children are already receiving with regular chiropractic care, Dr. Lori and Jamie understand the importance of explaining everything in advance, answering questions, and communicating with their patients what chiropractic is and how they can benefit from chiropractic.
Drs. Lori and Jamie are constantly working on their relationships with Jesus Christ our Lord and Savior. Any off time they have is spent with their two beautiful children, and that time is spent mostly outdoors when possible. Drs. Lori and Jamie are also avid triathletes which it includes swimming, biking, and running.
Drs. Lori and Jamie along with their children and staff also receive chiropractic on a regular basis. Their children have been adjusted since they day they were born, and have been blessed with incredible health.
EXPLORE OUR SERVICES »
Your Fullest Potential
They believe that every child should be immediately checked for nerve interference after birth and throughout life by a Doctor of Chiropractic so they can express their fullest potential. Our office is committed to helping everyone on his or her quest for health, vibrancy and well being…
"Thanks for visiting our site. We look forward to meeting you in person and learning how we may be able to assist you in living a more healthy life through chiropractic care. If you have any questions, please call us or click here to email us."
---
Meet the Doctors at Whitley Chiropractic | (260) 244-3665